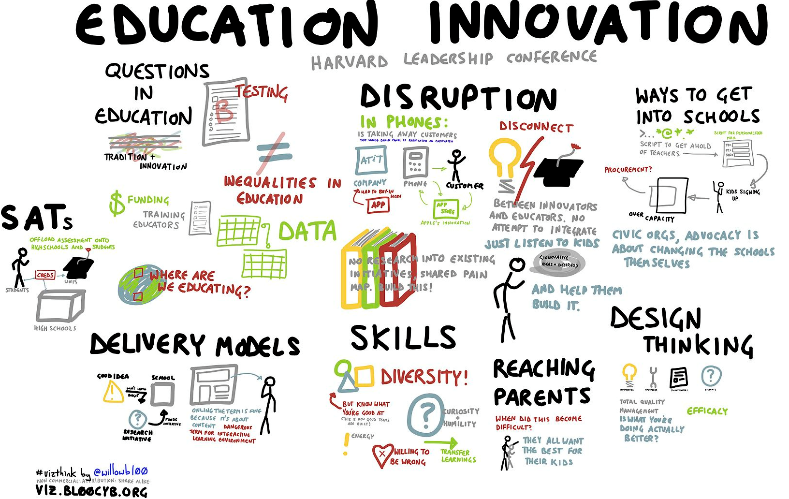 Newsletter January 2023, Digital Learning. Innovations in education
Five strategies to support innovative, digital teaching
Strategy No. 1: Think holistically
For innovations to succeed, they need to take account of the full complexity of an
organisation. Bates and Sangra write: 'At a senior management level, it is essential to
think holistically about the management of technology. Senior managers need to have
the whole picture about where decisions are made about the use of technology for
teaching.' Without 'the big picture' it will be difficult if not impossible to support and
expand innovative teaching beyond the individual or instructor.


Strategy No. 2: A need for multiple visions of teaching and learning
'We need to move away from the dominant paradigm of the fixed time and place
classroom as the default model for university and college teaching, and think of all the
many other ways we could organize and manage teaching. In particular, we need to
think very concretely about what teaching and learning should look like in the future.
Our reach should exceed our grasp, driven by our assessment of the needs of students
in the twenty-first century, and not by the existing institutional requirements that they
must fit into. The best place to develop such a vision is at the program level.'
Strategy No. 3: Strategic goals for teaching and learning
By definition, the results of innovation are often unpredictable. As Morriss-Olson states,
innovation is not always good. This raises the question then of what we are wanting to
achieve in our teaching and learning. Without such a framework or set of criteria it will
be difficult to decide whether or not to support or adopt an innovation. At the same
time, as a result of innovation, it may be necessary to re-think or re-examine our
academic goals. Bates and Sangra list a whole range of possible academic goals that
could be supported by learning technologies, but these need to be defined particularly
at the program level, within an overall academic plan. This leads to the fourth strategy
Strategy No. 4: An annual academic planning process
that includes innovation in teaching
Bates and Sangra:
'we suggest an annual rolling three- or five-year planning process
for the academic plan which integrates learning technology and academic planning…
modified each year in the light of new developments.'
This is where discussion of the balance between online and face-to-face learning, new
teaching methods, such as blended or HyFlex learning, the result of the previous year's
innovations, and use and choice of technologies would take place, again, primarily at
the program level. Such planning would also focus on supporting and prioritizing
innovative teaching in the coming year.
Strategy No. 5: Funding to support innovative teaching
Programs should be encouraged to innovate in their teaching, to look at better ways to
deliver and evaluate programs. This could be built into the Provost's budget, where
additional funds are available for programs seeking new and more effective ways to
teach, as well as funding for individual instructors who wish to try something new in
departments or programs that otherwise are not being innovative (you have to start
somewhere). Such funding should include money or at least require a plan for the
evaluation and diffusion of the innovation.
Innovation and on-line and digital learning: five myths, five barriers, and five strategies